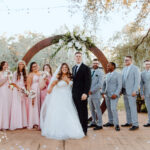 A Rustic BLB Hacienda Wedding
July 24, 2023
BLB Hacienda Venue
What makes a unique venue? In our eyes, it's the scenery, the ambiance, and of course the hosts that make it that special. Here at BLB Hacienda, we have the whole nine! We can't wait to take you on a magical tour throughout our blogs just to share some of the magic within our sacred place. This particular blog is going to highlight our fantastic BLB Garden. Welcome to the Farm, we hope you love it here as much as we do! We are your hosts Billy, Lee, and Bob! We are so happy you're here!
Unique Garden Experience
"To plant a garden is to believe in tomorrow." How special that quote holds true especially when you're having the gorgeous wedding of your dreams. Starting an everlasting dream with the spouse of your lifetime. We love nourishing our garden as it really is nourishing us and also bringing joy to our guests as well. Our special raised-up gardens are covered for protection from wildlife. We grow things from collard greens to tomatoes and even squash. Talk about a variety of lovely colors. Everything looks luscious and green as it grows. The garden is planted next to our tan building throwing out adobe vibes. We have the romantic ambiance as lights string above. The paved pathways make this spot one of the many photo background options around our venue.
Perfect Wedding Venue
Thank you for joining us on our garden tour today! We hope you fell in love with a unique venue today here at BLB Hacienda in Lake County Florida! If you would like to see more in person, please reach out to us and let us know when you would like to come take a look! We can invasion many gorgeous weddings or even photoshoots here, and we think you can too! Love grows here at BLB Hacienda, we are proud of the uniqueness this place provides not only for us but for all of you as well.