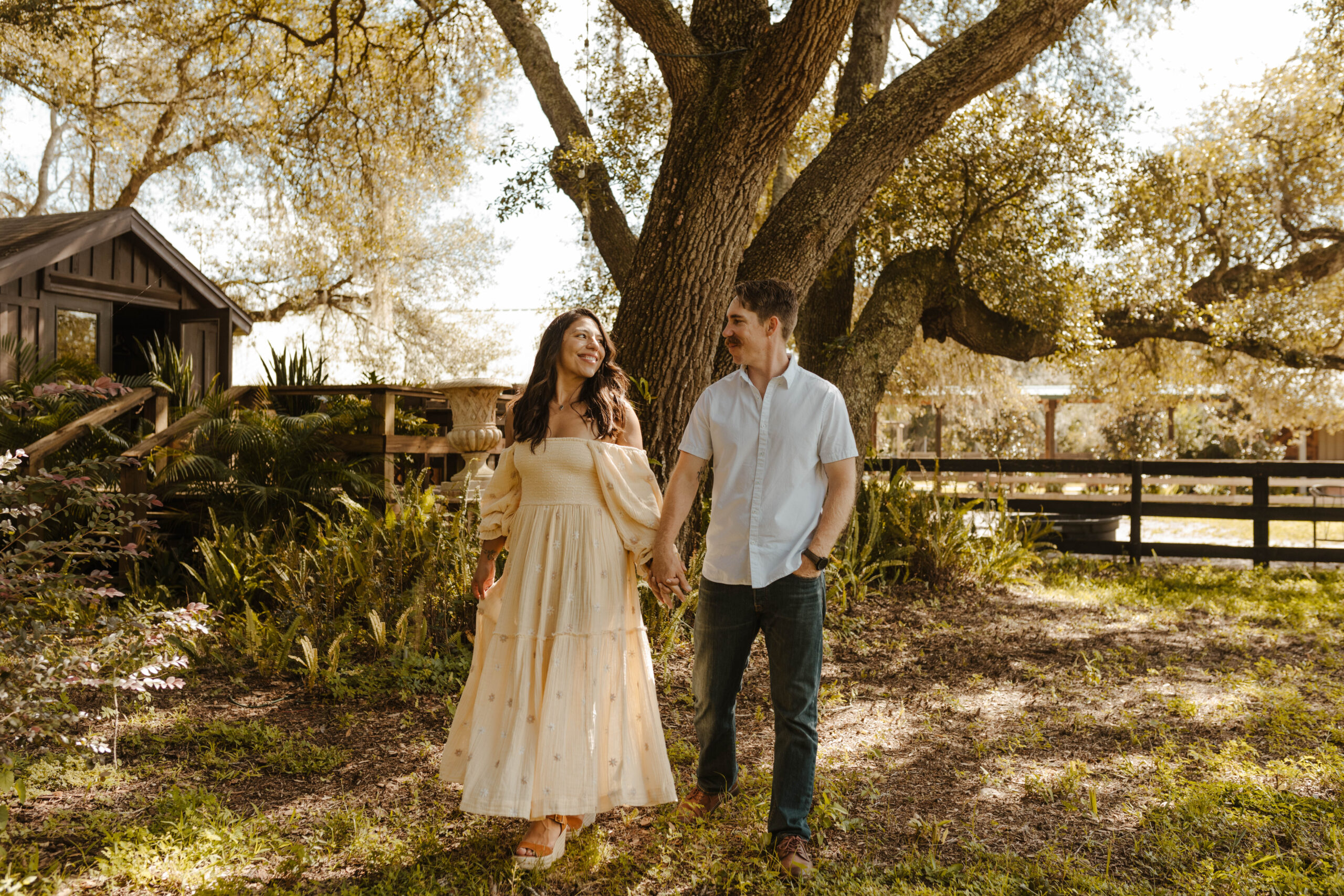 A BLB Hacienda Engagement Session
February 15, 2023
Tarra and Matthew
Tarra and Matthew dreamed of a perfect fall wedding, one with gorgeous scenery with fun vibes. Once they toured BLB Hacienda, they'd known it was the one! The day could not have been any more well-planned. Guests enjoyed a lovely outdoor ceremony and cocktail hour and then moved to our indoor rustic chic event space designed with beautiful blue and silver decor for a beautiful reception. A picture-perfect day for this Fall Wedding at BLB Hacienda caught by PB&J Studios that we are excited to share with you!

A Special Tribute
After the bride and groom got ready onsite, in our provided areas with their wedding party, they moved outside for their first look. You could see the excitement on Tarra's face and Matthew vibrating with anticipation as she entered the garden.  Tarra's late father's bowtie was attached to her bouquet honoring the bride's late father. A beautifully, yet subtle meaningful way to make him a part of the big day.
Ceremony
Their outdoor ceremony was lovely under the shade of the oak trees. Tarra's mom fulfilled the duty of walking her down the aisle with the bowtie for her father held close to Tarra's heart. Matthew was sure to infuse a little humor to keep Tarra and the rest of the guests smiling! They shared their personally written vows in front of their friends and family which didn't leave a single eye dry.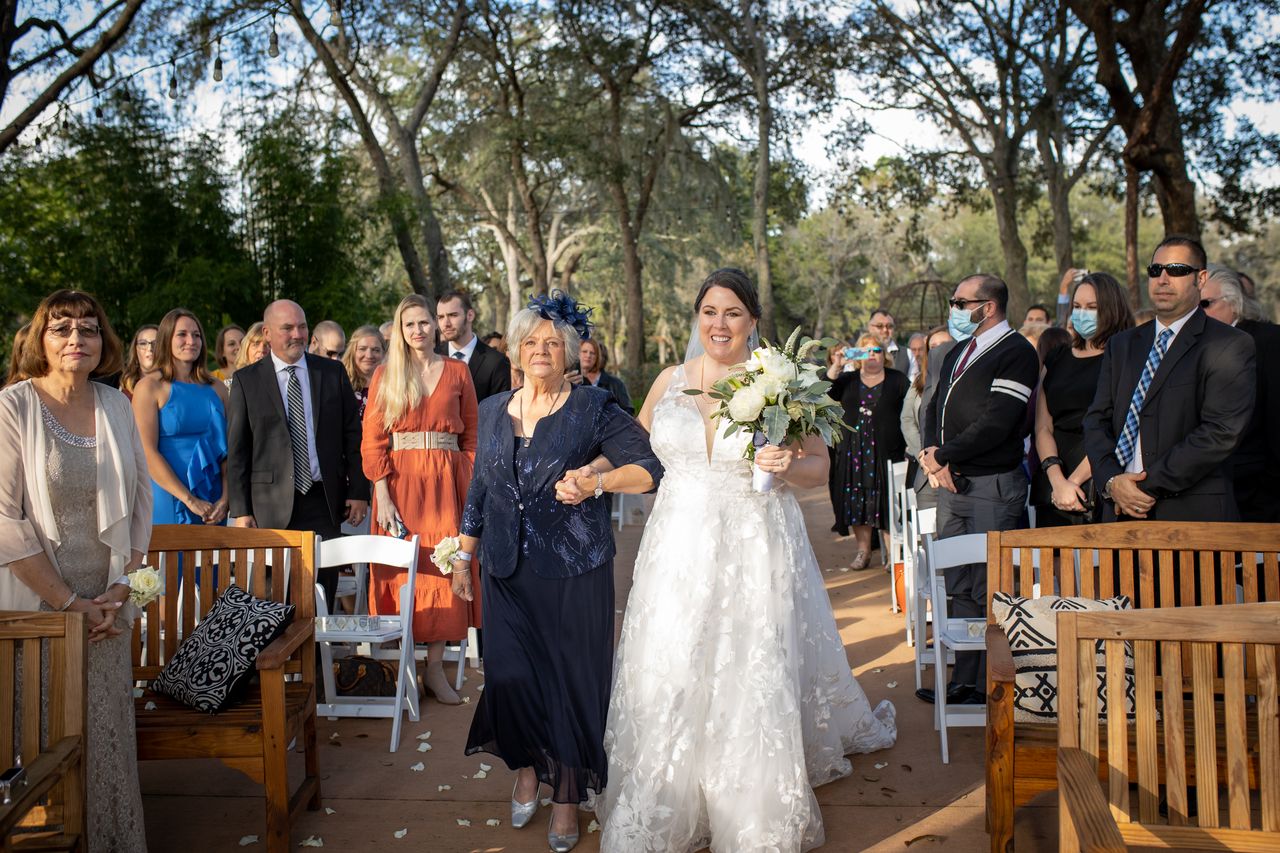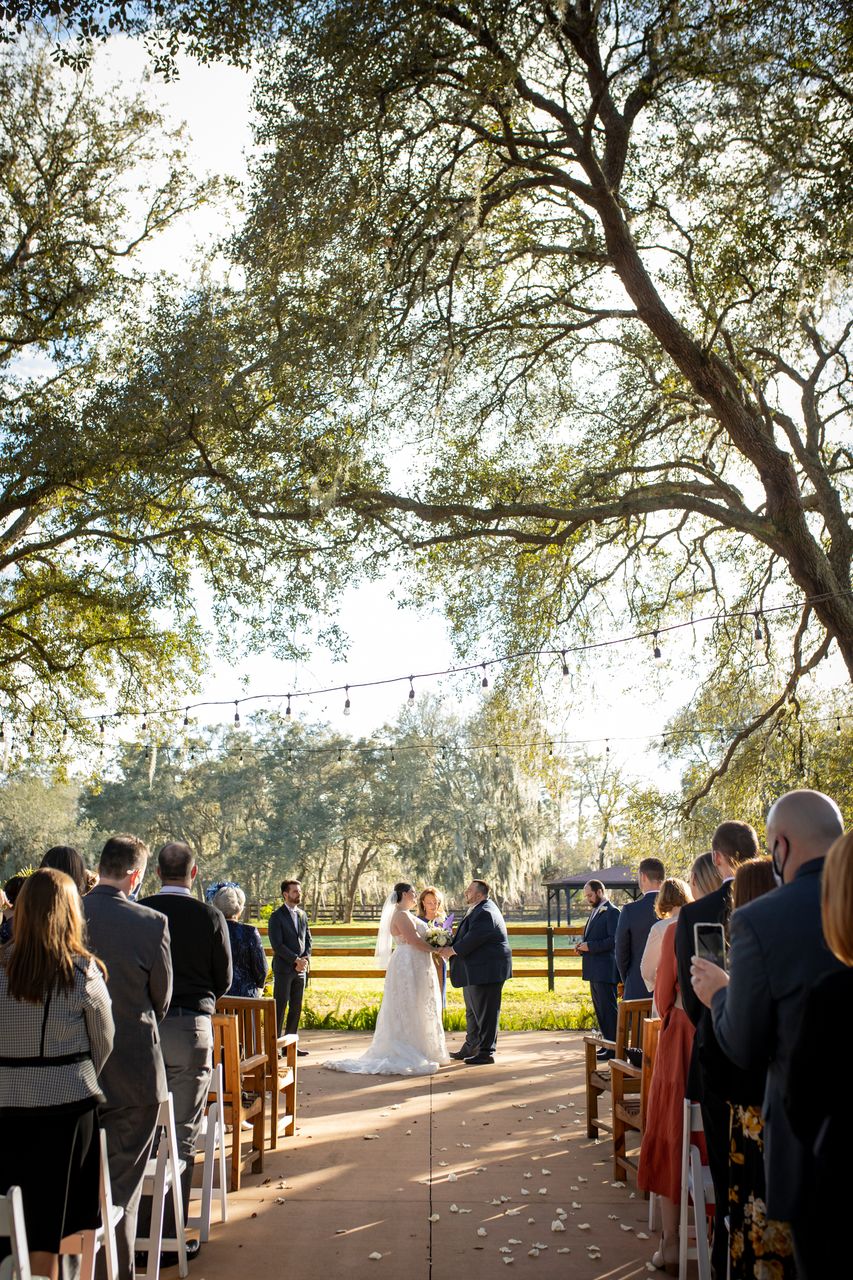 Pictures and Cocktails
After the ceremony, the guests enjoyed some cocktails on the terrace while the wedding party took pictures. Tarra and Matthew had lots of scenic areas to capture their pictures while having a great time doing so!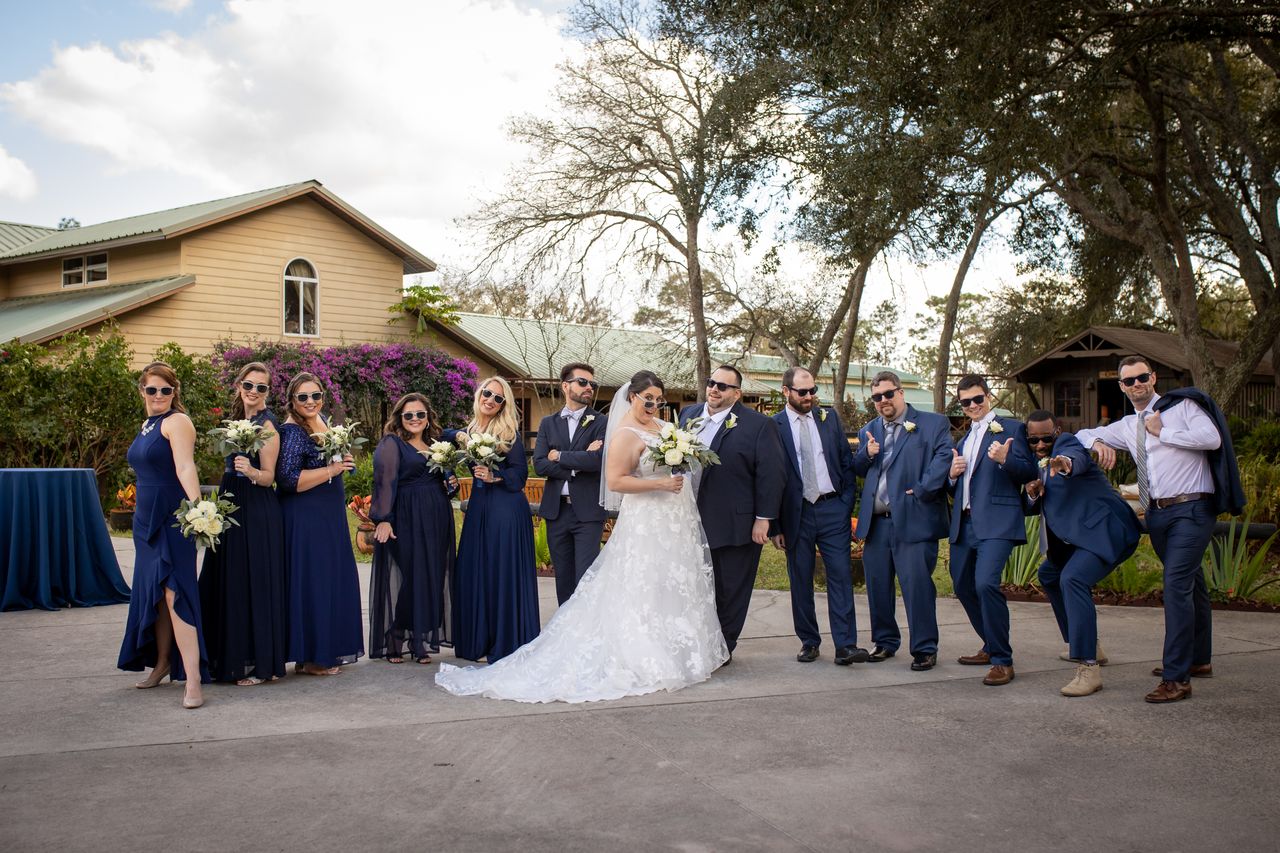 Special Guests at the Stables
No visit to BLB Hacienda is complete without visiting our famous four-legged guests! Everyone was invited to walk through the barn and paddock area to meet the horses. Our horses just love weddings and were happy to say hi and provide any help they could!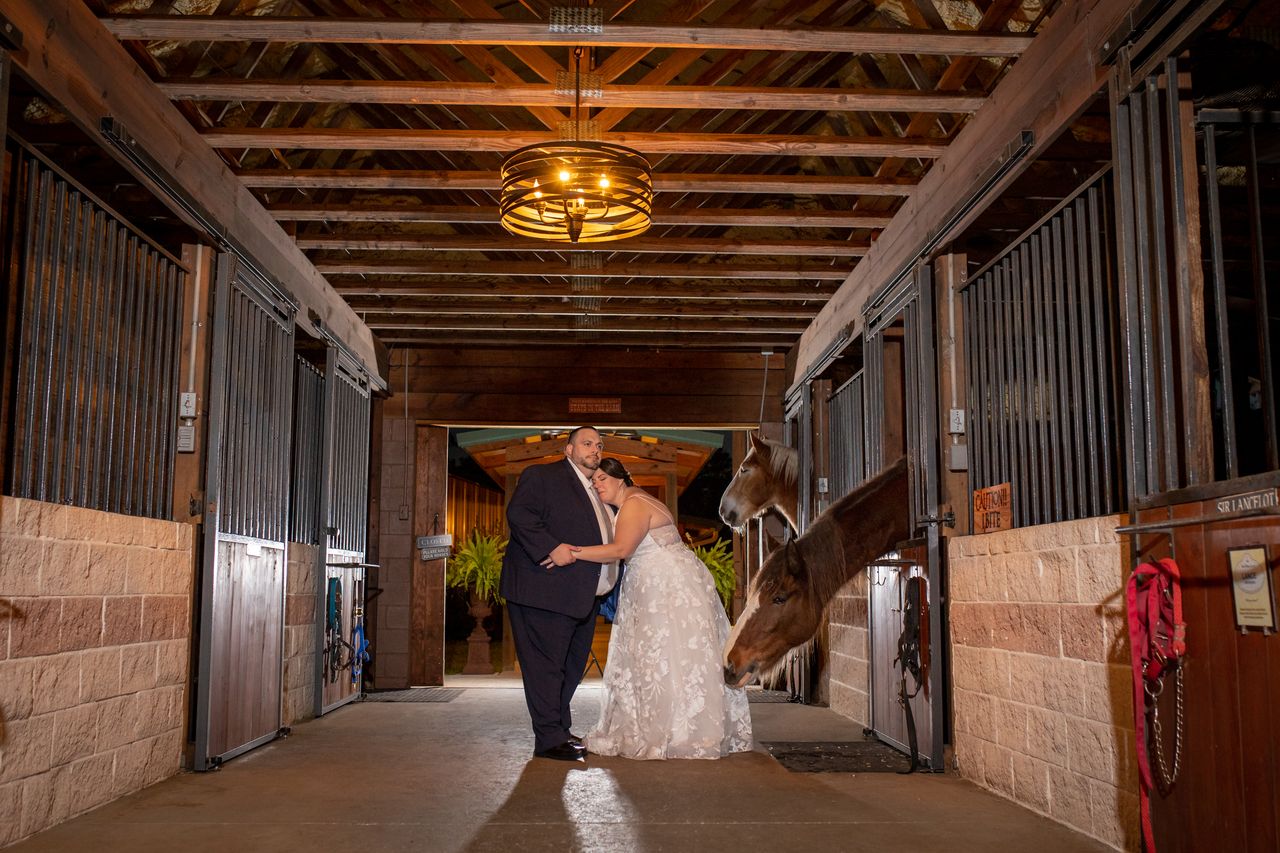 Reception
Once the outdoor excitement was done, everyone moved inside for some food, toasts, and fun! The blue linens and silver chairs simply sparkled with elegance as the guests entered the room. This group had a lot of fun with their introductions which even included a bear although we missed the story behind that! Tarra and Matthew then shared their first dance and several other traditional and extra-special dances. Their best man's toast was the perfect mix of sentiment and humor that ended with a rousing cheer to the couple.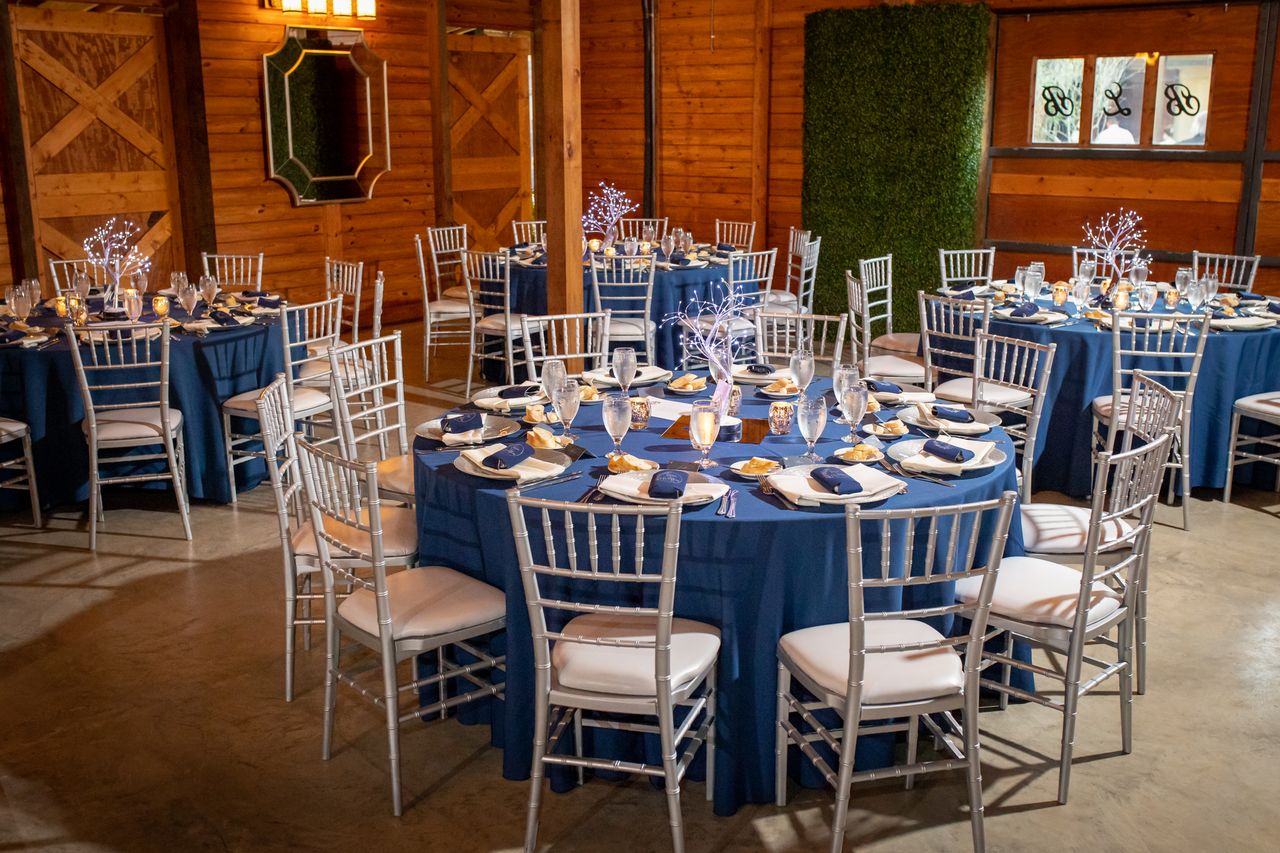 Congratulations!
We were so honored to host Tarra and Matthew's special day. They are a wonderful couple that knows how to make each other laugh and will enjoy many happy days to come. Congratulations again!